We are bored with mediocre hair colors, we want to look more attractive than usual. Hair coloring, is one way to attract attention. But if it turns out it's not in line with expectations, then we need a longer process to change the color. ModiFace, offers a unique solution to this problem.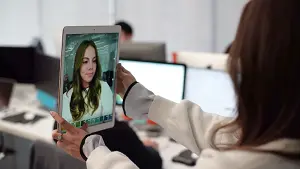 The company's founder and CEO, Parham Aarabi, has applied his work on the use of AI for Face-tracking and lips tracking to enable consumers to see what beauty products are like when they use them. And this is one of its products. ModiFace is an application that is able to let you try hair color before coloring it.
AI to Overcome Market Needs
The ModiFace hair application marks the development of AI as a market assistant. Consumers have long been able to see how clothes fit their body type or see furniture and decorations in their room virtually. And this application, has filled the void of market needs in a person's Lifestyle sector, especially cosmetics with modes that keep changing like hair. According to Jennifer Tidy, as the vice president of the partnership. There are many people who want to see what their hair color will be, before buying the product and using it. This works like looking in a mirror. AI starts tracking the user's face, hair and then applying the selected color.
ModiFace Removes Guesses
Initially, this application produced 2D images, and required users to decompose their hair manually then correct what was needed. ModiFace must take all 2D data and knowledge collected about hair and apply it to understand hair in 3D. That's why an AI architecture is needed. Now AI has been modified that can create more accurate hair-mask. After this AI understands the shape of 1 strand of hair, the AI can rebuild the user's hairstyle complete with colors chosen in real-time through the front camera of the cellphone. "The application of hair color is proof of the use of artificial intelligence can be used in the beauty sector," said Aarabi. Maybe first when choosing your previous hair color, there are many estimates and guesses. But now with this application, everyone can try hair color without needing to color it first. Source: nVidia