Become popular due to its Pepsi Man Campaign
Pepsi Man originally created by KID, a developer company on Japan. It was made to promote Pepsi product through a game which later, under permission of Pepsi Company, the game was released. The game itself features Japan's Pepsi mascot, known as Pepsi Man that run to meet the fans at a specific area. Once arrived, he will give the fans a can of Pepsi as a reward for awaiting his arrival. It was later Pepsi Man was recognized by the world as a game character that we never forgot until today. When it was released on PlayStation 1 by Sony, his popularity rises and so is Pepsi.
Knows no obstacle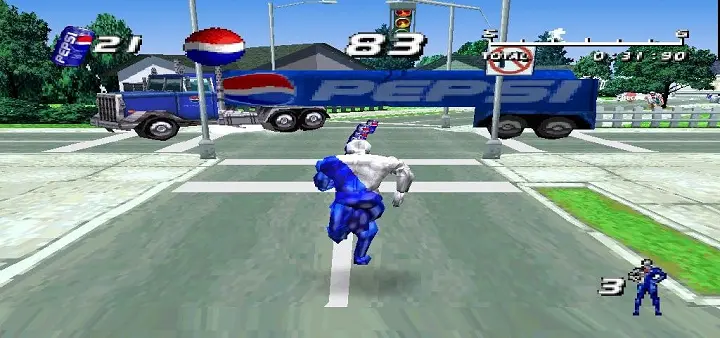 Pepsi Man always runs to anywhere he goes, promoting Pepsi to those who cheer for him. The obstacle is nothing to him even it was its own product like Pepsi truck. He will slide, jump it over, speed up, or slow down to pass the obstacle unharmed. He only stops to buy and drink Pepsi or giving Pepsi to his fans.
Run for fans, Run to promote Pepsi
This link may help you why Pepsi Man become a perfect one to promote

Pepsi to the customer

. Through made by Japan itself, Pepsi Company decides to make TV Commercial ads based on Japan's mascot. Being the only official character on drink product, once again his popularity rises. Aside from playing Pepsi Man by playing him, he appeared on many commercial ads that feature him as the main character. He will run from one place to another indefinitely. Sea, desert, snow mountain, pool, he can go anywhere as long as he can keep running and promoting Pepsi to anyone. He's still a name and person to remember even he was just a character from its product, Pepsi. Let's pray that someday the company can look at this mascot and recreate the Pepsiman game once again. If this game was made, surely there will be plenty of customers willing to play and drink Pepsi. When people remember Pepsi, they will always remember him.

Up until today, Pepsi Man continues to live as a legend from the world of gaming. Being the only character that was made to promote drink product, Pepsi makes his popularity up high. At 2005, Pepsi defeats Coca-Cola in the market value for the first time after their feud for 112 years. One of the factors is the presence of the Pepsi Man itself. Its presence alone and how he drinks Pepsi makes people want to do the same and want to be like him. Why Pepsi Man is still a man to remember to this day? Let's find out!